CDs take up room, even if they are not as space-hungry as books (sigh! — it must be time for another trip to Oxfam to offload more never-to-be-read-again philosophy books: but that's a story for another day). Still, despite running out of shelving, I can't quite bring myself to just buy mp3s or whatever. So there is a little pile of new acquisitions physically sitting there beside me. I'll mention only two the moment, with warm recommendations for both (not that I'm not sticking my neck out here — I'm just adding my voice to a wider chorus of approval).
The most recent purchase is Alina Ibragimova's new recording with Steven Osborne of Prokofiev's two Violin Sonatas, and the Five Melodies op. 35. Their live performances together have received wonderful reviews (here, for example), and this CD is indeed very fine indeed.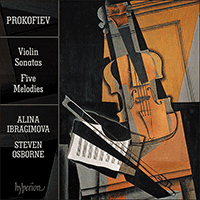 Initially, as you start listening, the piano seems to be recorded surprisingly far forward. But do persevere: this balance is evidently very much intended, and leads to some wonderful effects as Ibragimova's violin weaves around the piano line — sometimes like `wind in a graveyard', as Prokofiev told Oistrakh he wanted. (On a second hearing, the balance indeed sounds just right.) Rather to my surprise, I found I didn't know this music at all — I say a surprise, as once upon a time I used to listen to a lot of Prokofiev (that dates me to the time when Supraphon, with its wonderful list of recordings of Russian and Czech composers, was one of the very few sources of inexpensive LPs, and I then got quite a few). This is another deeply impressive disk from Ibragimova: I'm rather a fan.
Continuing the Russian theme, I have also recently got the new (and not very expensive) 4CD set of live recordings of Richter playing Schubert in 1978 and 1979 — seven sonatas on the first three discs, and assorted Impromptus, Moments Musicaux, Ländler etc. on the fourth. 
It is difficult to keep track of Richter's recorded legacy, but these performances haven't been released before. And they are mostly remarkably well recorded, with only occasionally intrusive audience noise. The highlights include a performance of the G major sonata, D 894, slightly less extreme in its handling of the first movement than the (in)famous London recording a decade later, and a really wonderful performance of the first of the last three sonatas, D. 958 (Richter never recorded D. 959, and D. 960 doesn't feature here). Even if you have other versions of Richter's Schubert (sometimes wayward, yes, but always compelling), you will surely want this set. For the price of a single concert ticket, one of the greatest Schubertians in his prime.